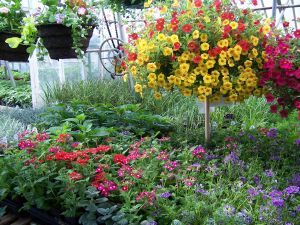 Sunset Greenhouse has long been a favorite spot for gardeners who know it for quality plants in a quaint atmosphere. If you haven't had the pleasure of visiting Sunset Greenhouses, you're missing out on one of the best-kept secrets in town.  Nestled amidst the neighborhood that has supported it for the past 7 decades, Sunset is definitely "off the beaten path."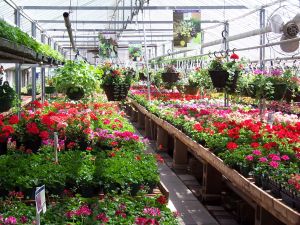 But, if you want to find unusual varieties of reasonably priced annuals and vegetables in a quaint and charming atmosphere, it's worth the trip.  Many of our varieties are still hand seeded and therefore, will never be found at the chain stores.  In particular, Sunset is known for its wide variety of tomatoes, peppers, fresh herbs and drop dead gorgeous flowers and hanging baskets.  The plants perch on benches that hover over hot boiler pipes, a prime environment for growing lush plants.   Over the years Sunset has repeatedly produced quality bedding plants tailored by current trends and suited for local gardeners.
Come May, customers begin to browse the many hanging baskets that decorate the greenhouse aisles.  The staff at Sunset still plant these baskets in-house, creating many one-of-a-kind combinations that won't be found elsewhere.  It's a Mother's Day tradition for many to come and pick out hanging baskets and flowers.   We also take pre-orders for custom baskets and containers.  In fact, many repeat patrons bring us their empty pots and hanging baskets each season for personalized plantings.
Sunset is open seasonally.  Growing begins in March which soon leads to benches overflowing with vegetables, herbs, perennials, annuals, and hanging baskets.   Stop by and smell the flowers in our out-of-the way-spot.  You'll find inspiration in all the new varieties, while being reminded that life is best enjoyed when you slow down and notice the details.
As We Grew . . .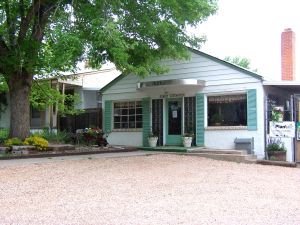 The wrought iron sign that sways in the wind at 1023 Sunset Road reads, "established 1946."  An old silver maple that has found its natural shape with age, arches its branches over the front door–welcoming those who appreciate watching things grow.   Is that you?  Then come see us during the growing season! Thousands of gardeners have walked through our entrance, for one thing or another–a red geranium…a little free advice.  Birds still build a nest under the garden center eaves and listen to people's animated debates about the best way to grow a tomato.  Once you cross the threshold of the old greenhouse, you'll reel back in time to a slower pace that makes you reflect on the Good Old Days.
Sunset has always been a locally, family-owned business.  We say the greenhouses were built in 1946 because of a stamped impression in the concrete walks but we really don't have exact dates.  Sometime before 1946, two brothers from Iowa moved to Colorado Springs and began building Sunset Greenhouse.  One of the men was named Joe Grisso.    We know that Joe sold the greenhouse to his daughter and son-in-law who later sold it to Don and Sue Phelan in 1976.  For our family, Sunset's story began in 1976 when Don and Sue Phelan made their dream a reality by buying this little  greenhouse in the Knob Hill area of town.  Joe Grisso remained as primary grower for the spring seasons, passing along his hard earned knowledge, doing what he loved to do well into his senior years.  It was a blooming business then and has held its reputable name among Colorado Springs plant nerds.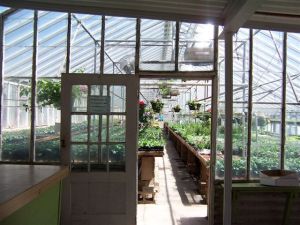 Throughout the years the family business provided enjoyment for Sue's parents (Grandpa Lud & Grandma Anne).  It also employed four teenagers—all of whom still work in the green industry today.   Valerie Belding, spent many years as grower and manager of Sunset.  She's returned in 2014 as owner/grower and is excited to to venture forth with her husband Ed to continue Sunset's tradition of some of the best plants in town!   Brother Phil works for a nursery in Fort Collins. Sister and brother Mark & Monica Phelan run popular nursery, Phelan Gardens. In 1981, Phelan Gardens was launched using Sunset as the forerunner template and has developed into a year-round Garden Center, Nursery and Greenhouse.  If you need roses, trees, shrubs, or houseplants, please visit their store!  Their popular garden gift shop is a great place for nature-themed and seasonal gifts.
Although Sunset has recently changed the order of ownership, it still remains in the Phelan family and will for years to come.  It is our intent to build up gardeners both young and old, contributing to our community with education and providing plant and support materials that bring both physical and mental health to those we touch.
We have had the fortune of many great people coming along side us helping us grow in one form or another.   Each person holds a dear place in our hearts for sustaining us through the years.  Through the experiences of past and present we offer a knowledge base of gardening that is equaled by few.