Impatiens are shade loving annuals that will bloom their heads off with some moisture.  They come in a wide range of colors and types including traditional singles, frilly doubles, large New Guinea types and hybrids such as the Sunpatiens series.
Exposure: Morning Sun, Shade for most types.  'Sunpatiens' hybrids can also go in Sunny exposures.
Uses: Baskets, containers, landscape
---
Double Impatiens
Rockapulco Wisteria
---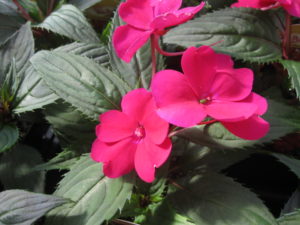 Hybrid Impatiens
Sunpatiens: Grow in part sun or full sun!
Compact Hot Coral
Compact Royal Magenta
Tropical Orange
Tropical Rose  
---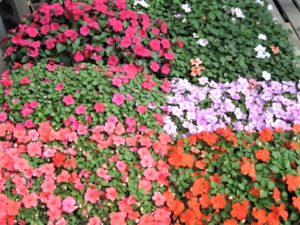 Traditional Single Impatiens
Accent: Bright Eye
Dazzler: Blue Pearl, Orange, Passionfruit, Salmon Splash, Violet
Impreza: Pink
Patchwork Peach
Mixed Colors